County 10's #landerbiz series is brought to you by the Lander Chamber of Commerce to share the stories of the local movers and shakers of our Fremont County economy. This story was originally published by County 10 on March 27, 2023.
(Lander, WY) –  Stacey Stanbury has taken the guesswork out of gift-giving with her new business, the Lander Gift Company. She puts together some of her favorite items into curated gift boxes that can be customized.
After completing the Lander Womentum program last year, she found the spark and inspiration to try something new, which led to her new business in January.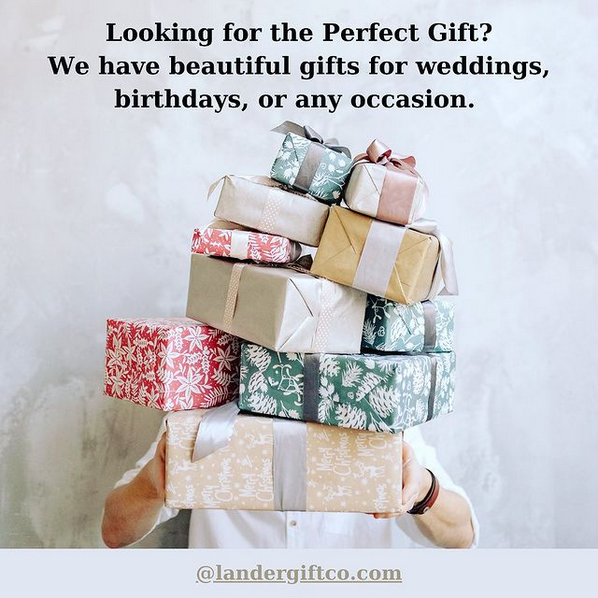 "I was thinking a lot about this," Stacey shared. "I was thinking, well, Valentine's Day is coming up, and I love making gifts and giving gifts, and I love finding products that I really like. I sort of found several things that I love and reached out to mostly my male friends to see if they wanted me to put together gifts for their wives or girlfriends or whatever for Valentine's Day. I would say maybe 13 of my friends took me up on that. It was really fun. So I put together these really beautiful gift boxes."
After receiving rave reviews from the gift recipients, she decided to keep building upon what she had started for Valentine's Day.
"I really love giving things to people and helping people spread kindness and love, and so I decided to sort of try to continue it," she noted.
Stacey has what she calls the "The Original Gift Box" on her website for $100. It includes a Geometry tea towel, a Poppy & Pout lip balm, truffles, and a candle. There is also "The Cozy Gift Box" for $150, which includes a Rumpl blanket, a Geometry tea towel, and a candle. Check out her other options online here. Shipping is a flat rate of $8.
She can also work with you if you want to spend a little less, or maybe you want to customize a box for a client, bridesmaid, a just that special someone in your life.
You can reach Stacey at staceystanbury@gmail.com for any questions or inquiries. Check it out below and give the page a like!