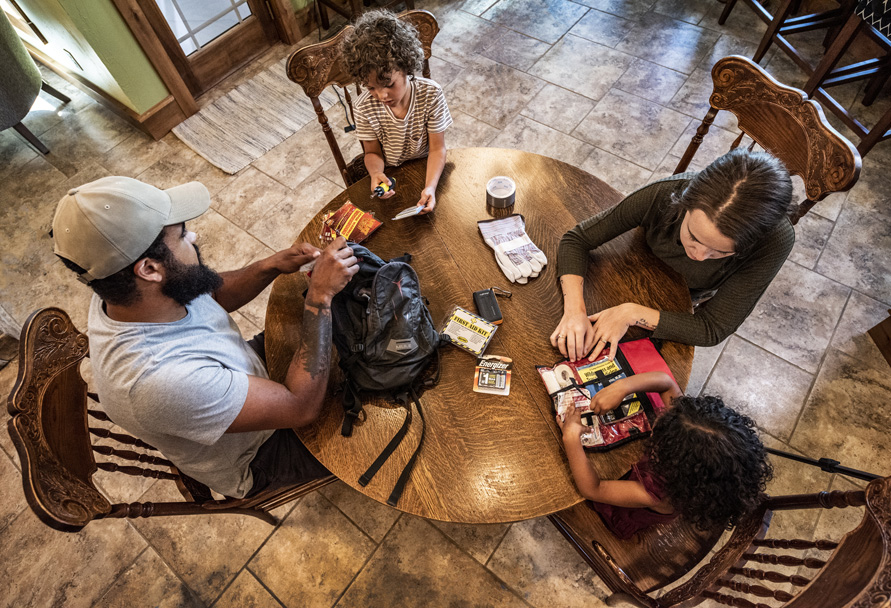 Cheyenne, WY – June 21, 2023 – Storm season has arrived, and a bit of planning can make a
big difference. Below, we have provided a few recommendations and other safety measures that
will keep customers safe and prepared for whatever mother nature sends their way:
Before the Storm
Set up an emergency drawer – or kit that is easy to access, even in the dark. Stock it with fresh batteries, a battery-powered radio, a portable charger, first aid kit and a flashlight. Make sure all family members are aware of its location. Load your toolkit with fresh batteries, a flashlight, battery-powered radio, first aid kit and portable cell phone chargers.
Prepare your yard – Trim branches, clear away debris, put away lawn furniture.
Gather pets – Storms can scare pets, be sure to gather and secure your pets away from the storm.
Plan for life support – If you have a family member who relies on life support, like supplemental oxygen or devices requiring electric power, secure a location where their specific needs can be met if you lose electric service. Also, call Black Hills Energy at 888-890-5554 to ensure we are aware that a life-support system is present in your home.
During the Storm
Unplug – computer and electronic equipment or protect them with a high-quality surge protector.
Conserve – If the power's out, don't open your fridge or freezer too often – undisturbed food remains frozen in most freezers for 12 to 48 hours.
Move to Safety – Stay in a basement or room with little to no windows if a basement is unavailable. If your power goes out, report the outage and Black Hills Energy will make every effort to restore your power as quickly as possible.
After the Storm
Assess – Conduct an initial assessment of damage and avoid any fallen trees or downed power lines in your area. Assume any wires are energized and dangerous.
Run your generator safely – Need to use a generator for power after a storm? If so, use caution. Never run a generator indoors or in an enclosed space and place it at least 20 feet away from your home – with the engine exhaust pointed away from windows and doors. Generators should not be connected to home wiring without an approved device that ensures electricity isn't fed back via electric supply lines – otherwise, you could potentially electrocute line workers and destroy your generator.
Fuel up – Re-charge batteries, fill gas tank, have extra gas on hand.
Check safety kit – Restock kits so they are ready to use.
Keeping You Safe
Avoid power lines -If you see a downed power line, please assume it is energized. Never touch or attempt to pick up a fallen line, and do not try to rescue someone in contact with a power line. Be careful when clearing debris to make sure it hasn't come in contact with a power line. Rather, call 911 and 888-890-5554 right away.
Check for damaged gas meters and service masts – Gas meters can easily be damaged from hail, falling trees, settling or erosion – potentially causing a leak hazard. If you think your meter may be damaged, give us a call at 888-890-5554 and we'll come by to take a closer look. Homeowners are also responsible for damage to their service mast, which is on the outside of your home on the roof or at your meter and looks like a metal tube or pipe. It feeds electricity to your home from the overhead power lines. If it is damaged, contact a certified electrician to schedule a repair.
For more tips on how to navigate spring and summer storms, visit www.blackhillsenergy.com/weather. You can also follow Black Hills Energy on Facebook, Instagram, and Twitter for summer safety tips and energy conservation information.

Media Contacts:
Northern Wyoming
Stacie McDonald 307.689.3592

Southern Wyoming
Laurie Farkas 307.256.2301
24-Hour Media Assistance 888-242-3969

About Black Hills Energy
Black Hills Corp. (NYSE: BKH) is a customer focused, growth-oriented utility company with a tradition of improving life with energy and a vision to be the energy partner of choice. Based in Rapid City, South Dakota, the company serves 1.3 million natural gas and electric utility customers in eight states: Arkansas, Colorado, Iowa, Kansas, Montana, Nebraska, South Dakota, and Wyoming. Additional information is available at www.blackhillscorp.com and www.blackhillsenergy.com.