The storied and beloved Lander One Shot Antelope Hunt is being threatened by activists who are encouraging the Wyoming Game & Fish Commission to not issue the traditional annual allotment of 80 antelope tags to the Hunt.
In our January 4 letter to the Commission, signed by many community leaders and public officials representing Lander, Riverton, Hudson, and Fremont County, the Chamber voiced our opposition to this effort, stressing the considerable negative impact such a decision would have on the Lander and Fremont County economy and also wildlife conservation projects throughout all of Wyoming and several western states.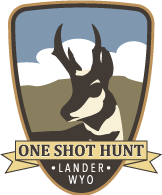 Huge Regional Economic Impact
Established in 1940, the iconic Hunt has been a major event in Lander for almost 80 years, and the economic boost it provides is second only to our famous Pioneer Days Rodeo and Parade. On average, each Hunt attendee spends at least $3,000 per person/couple, meaning the 80-tag allocation (which has no affect on the general draw) brings to our community a minimum of $240,000 each year.
One Shot Supports Wildlife Conservation
In addition to the Hunt's positive economic impact, the One Shot Past Shooters Club and Water for Wildlife Foundation contribute regularly to the community by supporting local projects such as the remodeling of the old and the construction of the new Community & Convention Center, the opening of a new wildlife conservation and education museum on Main Street, and the funding of $2.3 million in wildlife habitat projects, $1.1 million going to projects in Wyoming.
Commission Public Meeting Set for March 17
The Game & Fish Commission is scheduled to consider the One Shot quota on the second day of its two-day public meeting scheduled for March 16-17. The meeting will be held in person at the Holiday Inn at Buffalo Bill Village Resort, 1701 Sheridan Avenue in Cody and also via Zoom. If you wish to speak to the Commission and comment on an agenda item, you must submit an Advanced Agenda Item Comment Form, which is attached to the agenda linked above.