Always a popular event in Lander, this year's Lander Chamber of Commerce Community Awards Luncheon seemed extra special. The combination of the particular individuals and businesses awarded along with the unexpected participation of Wyoming's First Lady seemed to make this cold winter afternoon a bit warmer than expected.
A celebration of the Lander business community and the individuals within it, the Lander Chamber's Community Awards Luncheon is an annual opportunity to come together in one place to recognize in a public way the efforts of the men and women who put so much time and effort into building their businesses, creating jobs for Fremont County's residents, supporting the community, and in general making Lander a great place to live, work, and play. The '23 luncheon was held on Friday, March 3 at the Lander Community & Convention Center.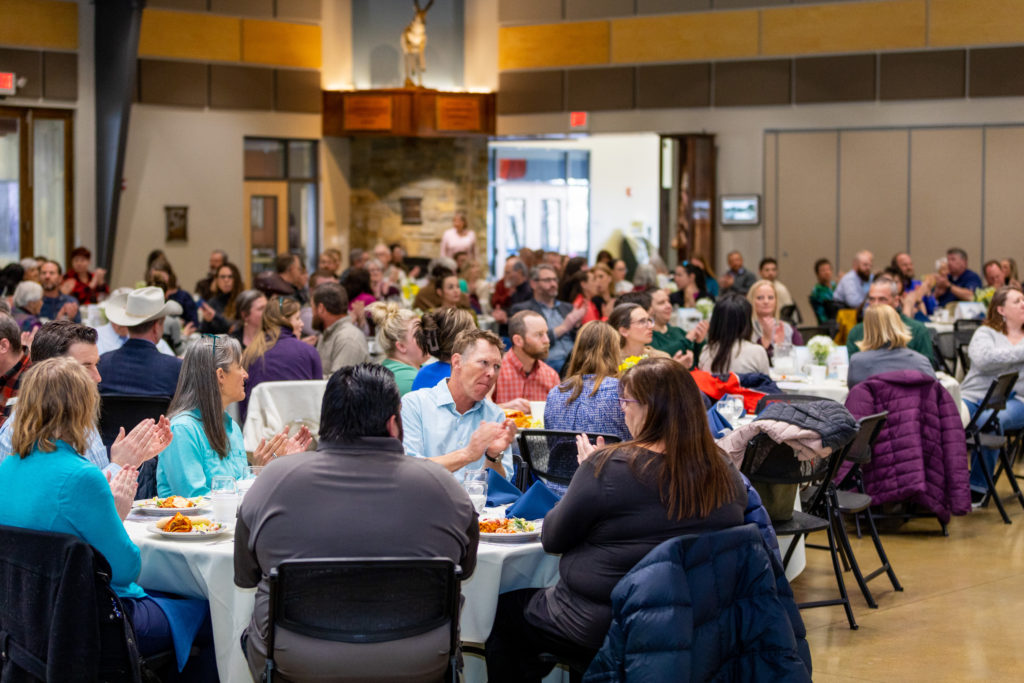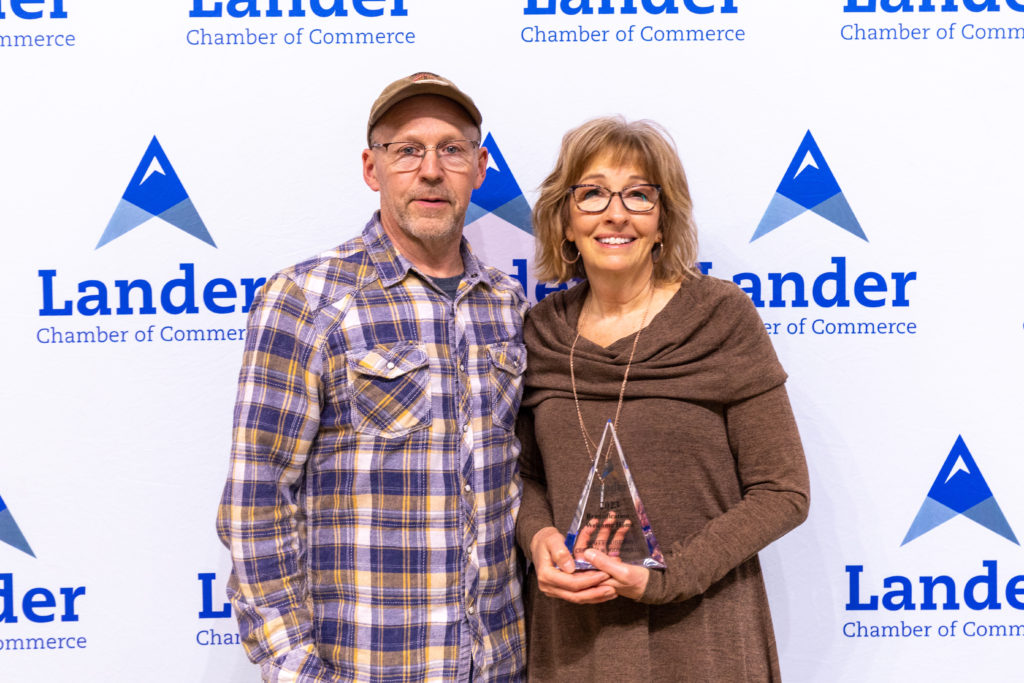 The first award presented was the Beautification Award. Welcome Home/Scott Robeson Custom Woodworking was selected, said Chamber CEO Owen Sweeney, as it "has blossomed into one of Main Street's most popular — and most beautiful — stores and gathering places. Both the facade and interior of Scott & Lesley's business is an attractive upgrade to Lander's Main Street. Scott's well-known reputation for impeccable woodworking has expanded into a gift shop that focuses on high quality gifts of all types, with a focus on Lander and Wyoming-centric goods. Inside and out, Welcome Home is a beautiful addition to Lander."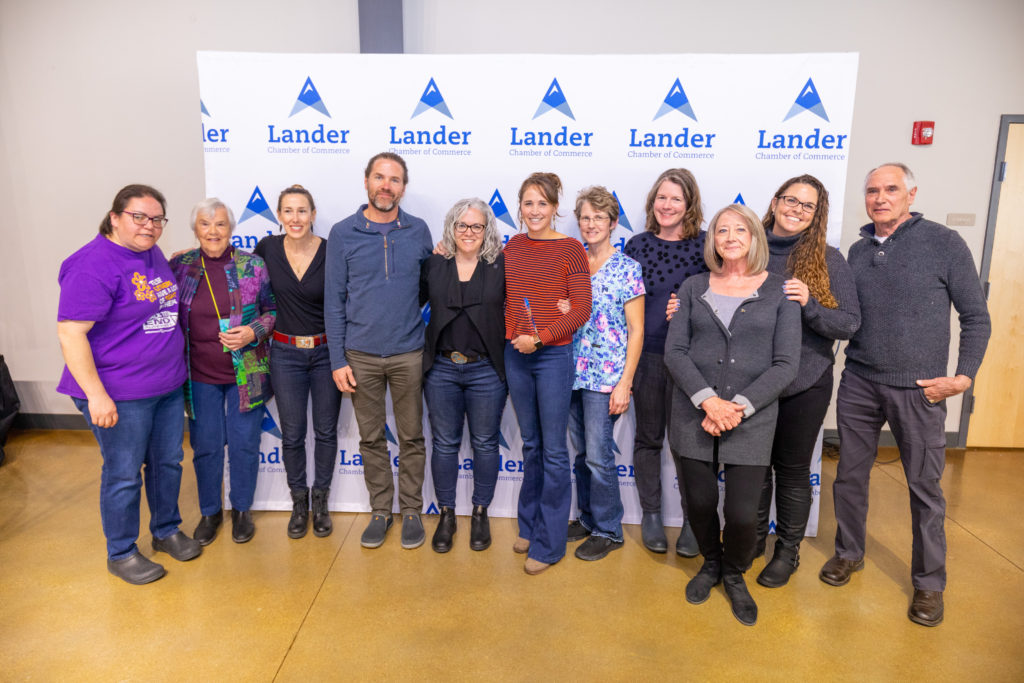 The Rookie of the Year Award was presented to Sarah Wilzbacher and her team at Anam Cara Caregiving. "Every year there seems to be at least one category where the nominations come in overwhelmingly for one business or organization," said Sweeney. "This year that organization is Anam Cara Caregiving. The nominations we received and the many testimonials on the Anam Cara website demonstrate that Sarah and her team are filling a need in Lander for quality home health care." Quoting one Sweeney read, "Sarah plays to an individual's strengths and assists with their weaknesses by providing good old fashion companionship. Everyone hopes in their final days they will have the care that someone like Sarah can provide."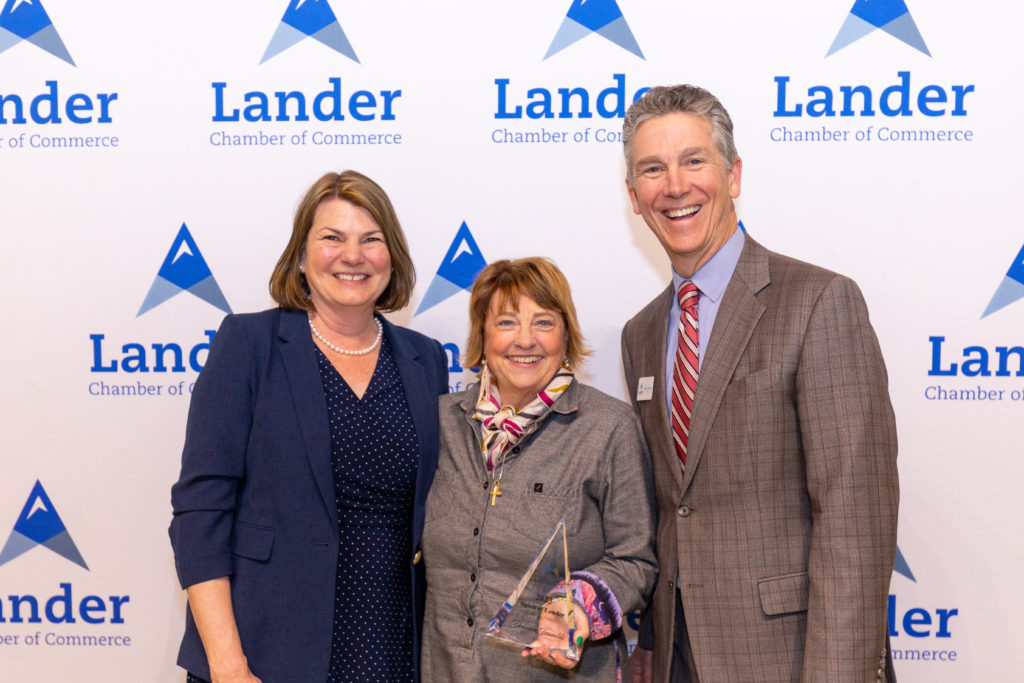 Before the next award presentation, Sweeney explained to the crowd that a special guest wanted to present the Spirit of Lander Award to its winner. He then welcomed to the stage Wyoming's First Lady, Jennie Gordon, who was met by a standing ovation. When Sweeney announced that the winner was Deanna Trumble, Executive Director of the First Stop Help Center and Regional Director of the First Lady's Wyoming Hunger Initiative, the crowd erupted with approval. Trumble's surprise and delight were evident on her face as she ascended the steps to the stage to embrace her good friend Gordon, who then shared some personal anecdotes of Trumble's remarkable efforts on behalf of the Wyoming Hunger Initiative, notably how she was able to acquire huge amounts of food in partnership with the Wyoming Honor Farm in Riverton. Invited to the mic to say a few words, the still-in-shock winner gave the crowd a laugh when the typically loquacious Trumble said she had "nothing to say!"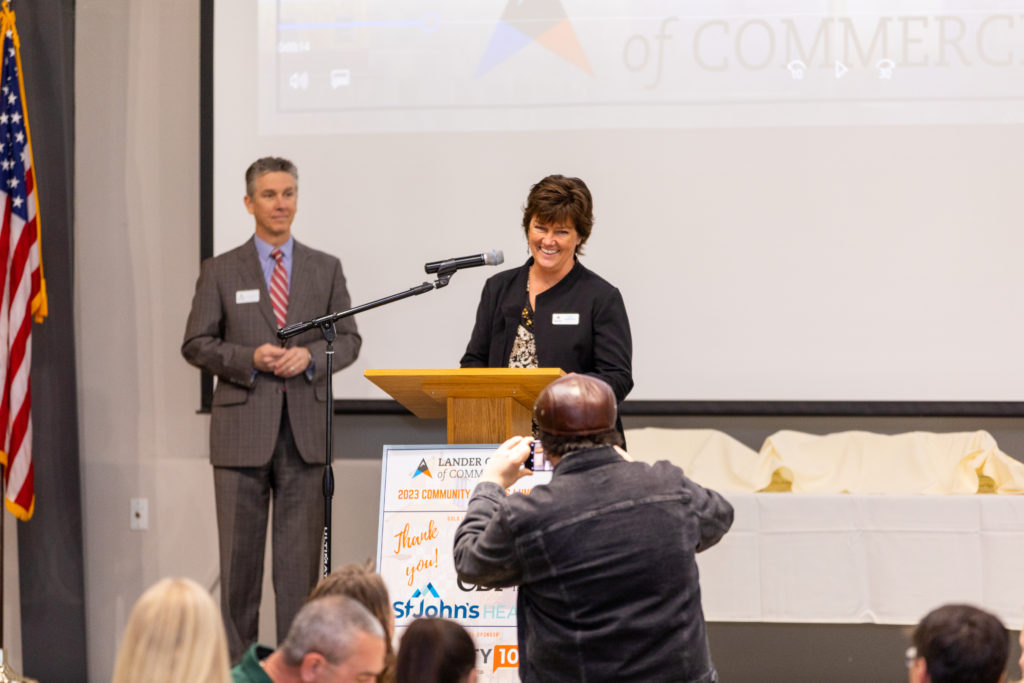 After the First Lady's comments and an uncharacteristically short acceptance speech from a still shocked Trumble, Sweeney invited to the stage ACFCU President & CEO Brian Rohrbacher. Rohrbacher, a Lander Chamber of Commerce Board Member and also President of the Lander Ambassadors, announced and presented their Ambassador of the Year Award to Bob Tipton. Sweeney then presented the Chamber's Past President Award to Eric Andrews of Summit West CPA Group. Sweeney thanked Andrews for pushing him to be a better leader of the Chamber, and noted that the Chamber still had two years to benefit from Andrews membership on the organization's board of directors.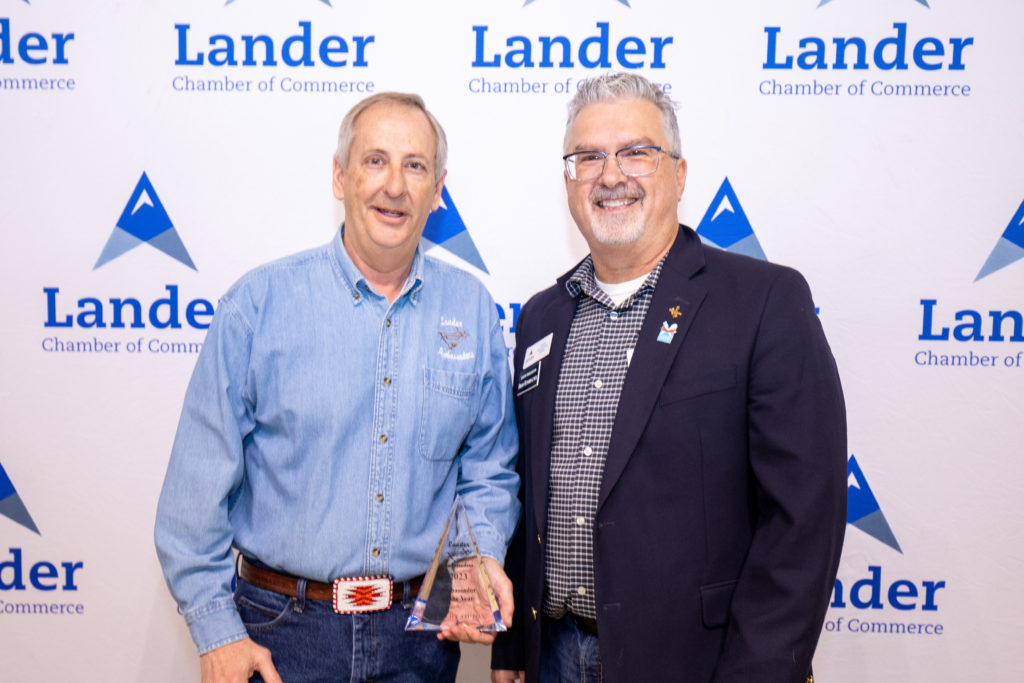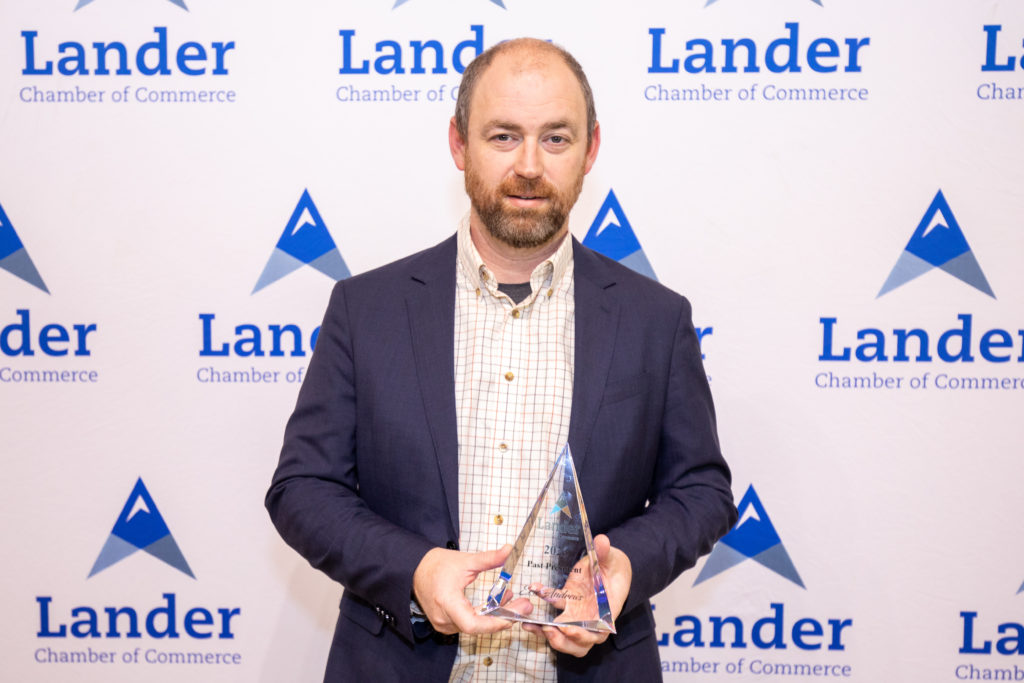 The final two awards recognized two longstanding members of the community. The Anchor Award, which acknowledges businesses that have stood the test of time, was awarded to Allen's Diamond 4 Ranch. "Jim Allen's family settled in Lander in the 1870's — that's an anchor," stated Sweeney. "Continuing the family tradition of hosting visitors in the Winds like Jim's grandfather and great uncles did in the early to mid 1900's, Jim and his wife Mary started this small, family-owned-and-operated business in 1973. Jim & Mary raised their three daughters on the ranch — Christin, Holly, and Jessie — and Jessie is carrying on the family business." Sweeney went on to note that the Diamond 4 has been featured in both National Geographic Magazine and the New York Times, and he recalled that, "Jim served for five years in the Wyoming House of Representatives on several committees, where he quite appropriately was appointed a member of and eventually chaired the Travel, Recreation, Wildlife and Cultural Resources Committee."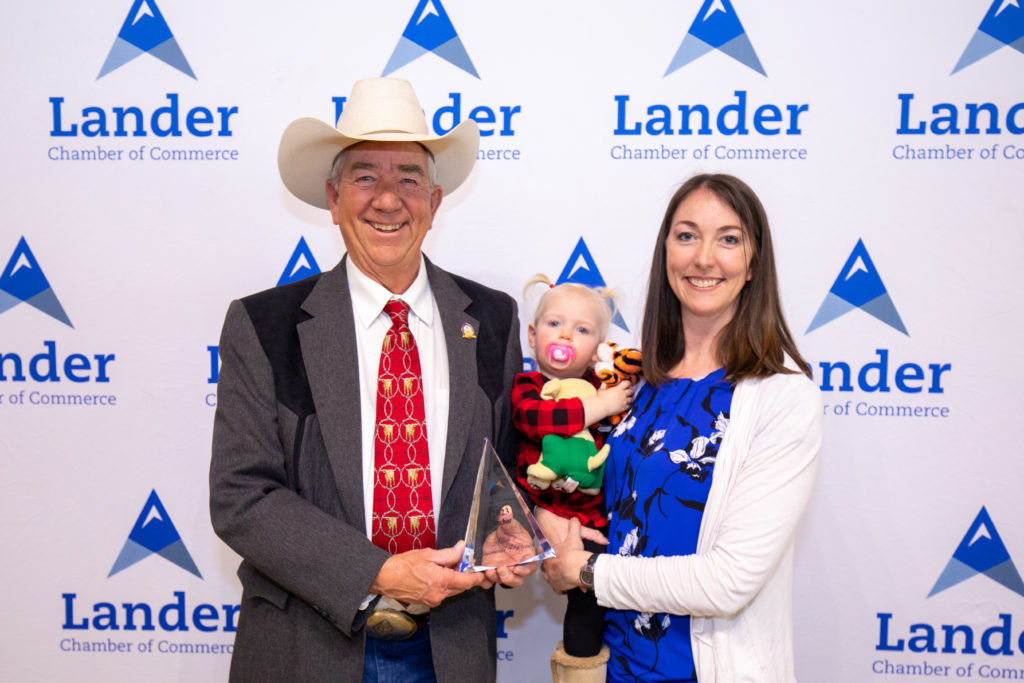 The event's final award for Lifetime Contribution was presented to Rick Fagnant of Summit West CPA Group. Fagnant was in the dark that he was the winner, and Sweeney invited his long time colleague and friend Mike Lewis to the stage to spring the surprise. It didn't take long for Fagnant to catch on, as Lewis began his introduction by recounting how "this man" met his wife-to-be at an event that was held in the building that used to stand on the very spot on which the current Community Center stands and in which everyone was there gathered. Lewis's comments were heartfelt and touching, clearly those of a man who deeply respects and loves the man everyone was there to honor. Fagnant was obviously moved, causing him to offer to Lewis an off color word of gratitude that could only have come from a good friend. The crowd roared with laughter, and Fagnant offered a few words in thanks.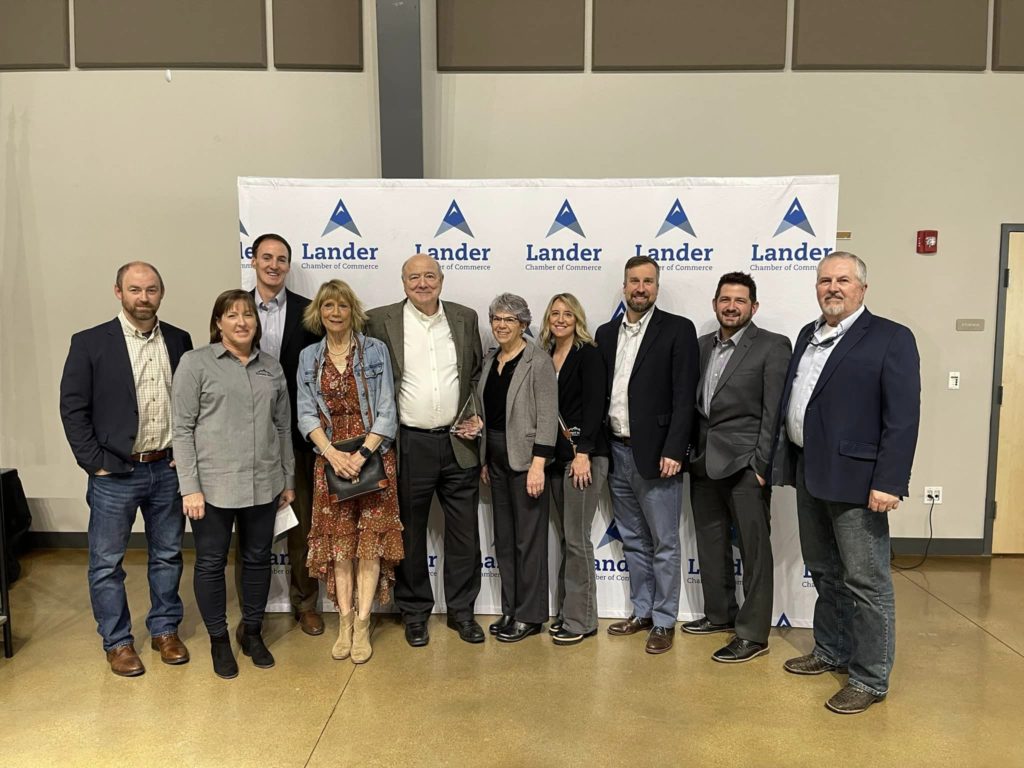 Sweeney then introduced the luncheon speaker, Helen Wilson, Executive Director of the Wind River Visitors Council (WRVC), Fremont County's lodging tax board and destination marketing organization. Wilson informed the attendees of the great success that the WRVC has had in attracting travelers and tourists to Fremont County, explaining the man jobs tourism supports and the many events and organizations in Lander that benefit from the lodging tax through the Tourism Asset Development (TAD) Grant program. Wilson ended her comments by highlighting three upcoming Lander-sited projects that arose from the funding provided by the Wyoming Office of Tourism's Destination Development Program: 1) wayfinding signage for Lander; 2) trail signage at the Bus Loop; and 3) a large video display for the lobby of the Lander Chamber Visitor Center & Business Complex.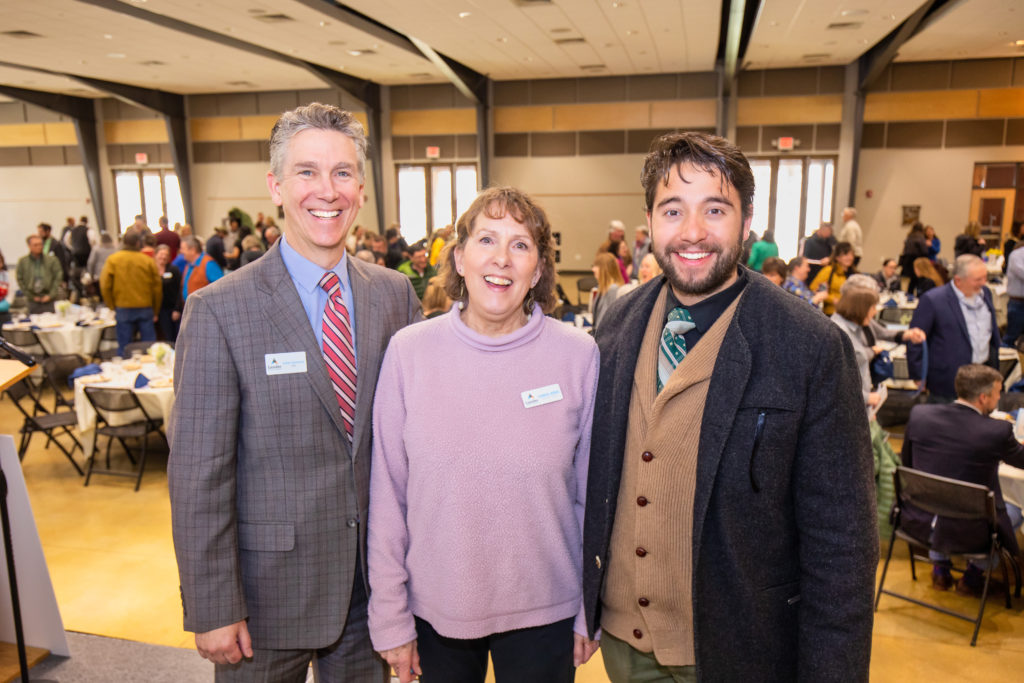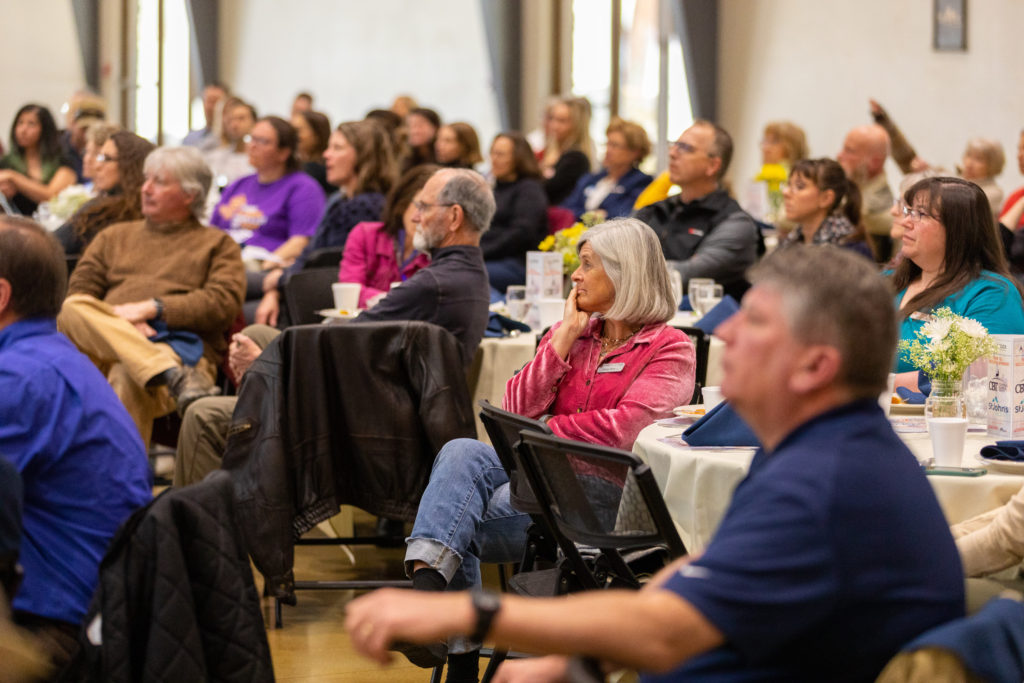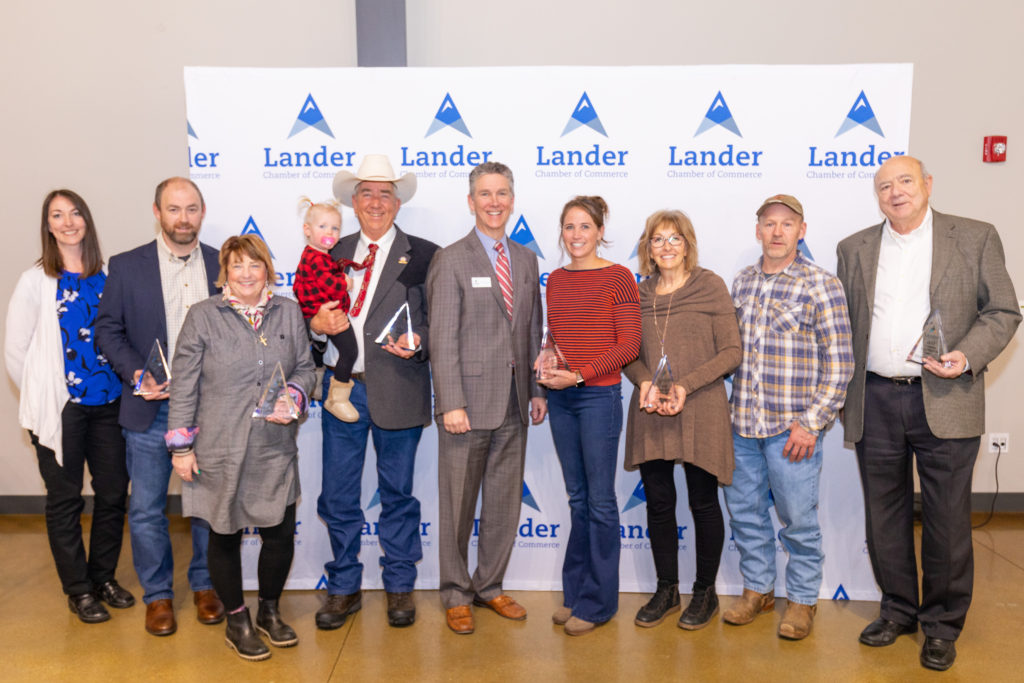 GOLD LEVEL SPONSORS
SILVER LEVEL SPONSOR

BRONZE LEVEL SPONSOR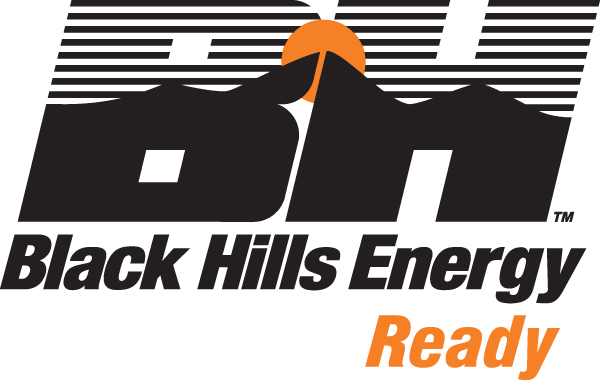 THANK YOU, VENDORS!