by Kaley Harrison | Sep 22, 2021 | Biz Tips
I've performed in many marketing roles, and by far the most difficult is social media management. Platforms change and trends come and go. In the Wyoming SBDC Network Market Research Center (MRC), we often say the only constant is change, and one change I've noticed recently is more entrepreneurs and business owners asking about TikTok. Specifically, I've heard many ask the question, "Is TikTok right for my business?"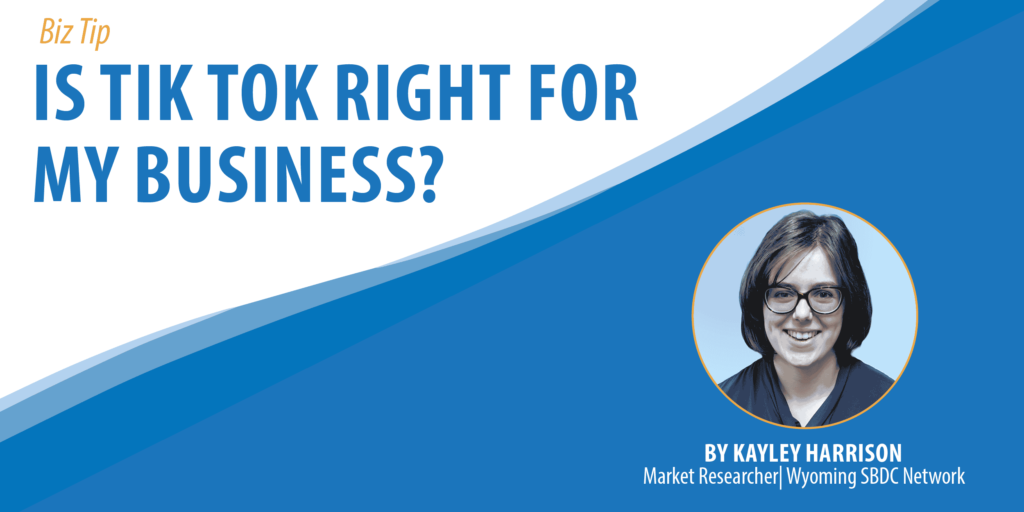 It's easy to answer "yes". You could probably create an account in the time it takes to read this. However, TikTok isn't a good fit for all businesses. It may not fit into your current social media strategy, and you may be wasting valuable time creating videos and finding the most popular sounds. I've proposed a few questions to help you determine if TikTok is right for your business. It's up to you whether you download TikTok or not, but this question framework should help guide your decision:
Do I have time to manage another social media account?
Think of your typical day. Do you have time to manage your current social media account(s)? How about enough time to manage another? I often see business owners overextend themselves. Running a business is a job and a half. Sometimes your daily and weekly schedules don't leave any time for writing captions, filming videos, or snapping pictures. If your to-do list is already overflowing, it may not be the best time to add TikTok to the list. Instead, I recommend focusing on your current social media pages by attempting to post at least 2-3 times each week.
Does TikTok match my target audience?
If young women are your average customers, TikTok may be a good platform to reach more of them. Women represent a higher percentage of users at 57% of the total user base when compared to men (HootSuite). Gen Z also encompasses the majority of the user base while those over 55 years old are the least likely to join TikTok (Wallaroo). In short, TikTok can be a great platform for businesses to reach a younger, female audience. The TikTok demographics may not match your ideal customer, and that's okay! It's better to pass on TikTok than to waste time building a page that doesn't add value to your business.
Do I want to learn how to create engaging content?
TikTok has many editing features you can access in the app. You can film a video, add captions, and post it right on TikTok. This makes creating content easier since you don't need to download additional editing apps or software. However, I think the hardest part is learning and keeping up with the latest trends. A sound may be trending for a few days before falling out of popularity and use. You should be aware of the latest trends in transitions, sounds, and video style. Staying current on trends requires continuous education and extra time, but the time and learning will pay off in better videos and higher views.
Need more help on social media? The Wyoming SBDC Network can help you create a social media marketing plan and develop your social media skills. The Market Research Center can also provide a social media analysis for your business. Through the social media analysis, we review your social media pages to see what your strengths are and where improvements can be made. Reach out to your regional advisor today to get connected with resources and no-cost advising on social media topics.
About the Author: Kayley has made a home in Laramie, Wyoming after primarily working in higher education in Georgia. Kayley is passionate about researching for the wide variety of clients served by the Wyoming SBDC Network's Market Research Center. The Center specializes in providing any Wyoming business with access to advanced marketing information that was previously available only to a few of the largest corporations. Her expertise includes digital marketing and social media. When she is not in the office, Kayley enjoys reading and exploring the state with her family.